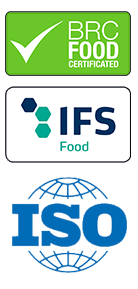 According to the legislation and the EC Regulation No. 852/2004 implementing the system self-test (HACCP) is mandatory for food industries. The company applies a fully safety management system of food that complies with the requirements of standard ISO 22000, IFS & BRC.
DOWNLOAD ISO 22000 CERTIFICATE
DOWNLOAD BRC CERTIFICATE
DOWNLOAD IFS CERTIFICATE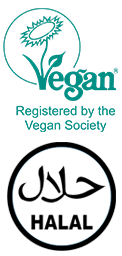 Furthermore and within the context of its international expansion, the company provides with Halal as well as Kosher certificate. These two religious certificates ensure that our products have been produced with respect to the special needs and preferences for each consumer.  In addition, the Vegan series has been certified by the British Vegan Sociaty.
DOWNLOAD HALAL CERTIFICATE
DOWNLOAD CERTIFICATION FOR VEGAN